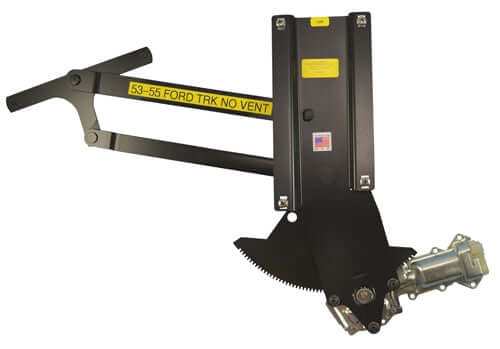 1953-1955 Ford Truck Power Window Kit - One Piece Glass
Original price
$609.00
-
Original price
$874.00
If you add a switch kit, conduit will be included at no additional charge. If no switches are required, motor plugs

and terminals will be included. If you choose Nu-Crank Switches - consider adding a master switch to control other windows.
Note: These ACI motors are reverse polarity motors and require reverse polarity switches.
Details
bolt into original mounting holes

Uses Stock Channels

Works with the curved glass of the 1960's and 1970's

New ACI Motors

Regulators are made on 1018 cold roll steel

Bronze Oilite ® thrust bearings at pivots (Made in USA) to keep them lubricated

4130 Heat Treated gear plates for longer tooth life and better wear

Multiple power window switch options.

Lifetime warranty (Warranty requires copy of sales receipt or invoice.
New ACI Motor AMP Draws
| | | | |
| --- | --- | --- | --- |
| No Load amps | Low Load amps | High Load amps | Stall amps |
| 3 | 5 | 11 | 20 |
ACI Motors are Reverse Polarity:
This means that the ground for the system must come out of the master switch. There are 2 poles on the motor - to make it operate,
you must put power to one side then ground to the other side - NOT to the motor case. This will result in the motor turning in one direction.
By swapping the wires from side to side, the direction will change.

Fuses or Circuit Breakers - 30 AMP:
Most of our harnesses will come with an in-line 30 AMP fuse. If you prefer, a circuit breaker will work too.
You can hook your windows up to a variety of different power sources.
Some options are: Straight to the battery (Windows should not have any battery draw when not in use).
 Find extra slot in fuse panel - tie in using the supplied fuse.
 Pull power from the key-on side of the switch

Relays:
In most cases, you will not need to use a relay to boost amperage to the motors. The switches and wiring we use can handle the amp draws.
If you are using old style 3 pole switches, a special relay is needed to reverse the polarity at the motor. These do not increase amperage,
they just swap the ground from side to side. we have these available (prewired). Call us at 336-699-8949 for assistance.

Grease & Oil:
1. On the regulator gear teeth and roller tracks, we recommend using a high temp automotive wheel bearing and chassis lubricant.
NLGI grade 2 is one option
 2. Avoid the older soap based lithium grease - it sets up hard in cold weather making the windows harder to move
 3. A few drops of light weight oil in the pivot points will allow the Bronze Oilite ® bushings to work smoothly and reduce wear.
 4. On fuzzy runs and weather stripping - some 3M Silicone spray can help with break in
 5. Use Die-Electric grease or Tuner Lube on all terminals and connections. This protects against moisture and corrosion.