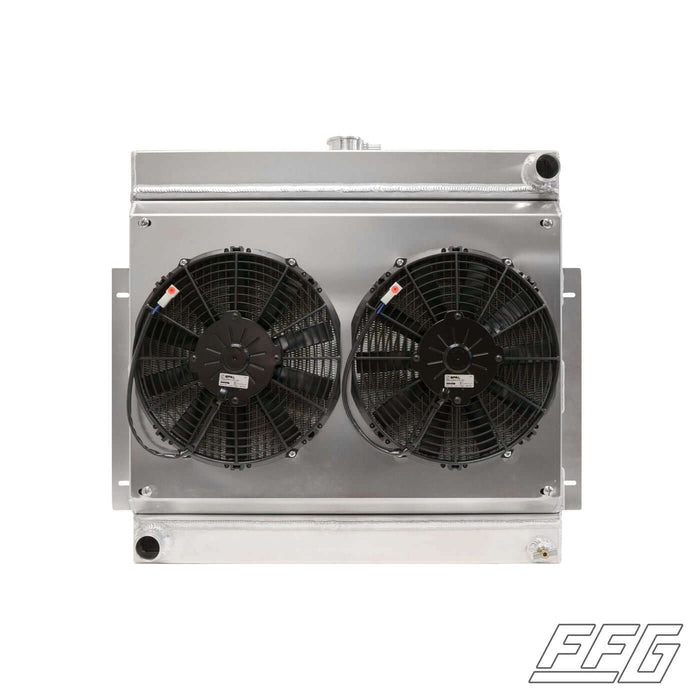 1957-60 F100 Coyote/ Godzilla Swap Radiator - High Performance Fans
Original price
$1,368.00
-
Original price
$1,368.00
 Fat Fender Garage is excited to offer these high-quality radiators made specifically for your Ford Truck builds. This Coyote Swap Radiator is hand made with aluminum, has a non-integrated aluminum shroud and comes with two rows of 1" tubes. We also include a highly polished, dome style, 16lb Billet Radiator Cap with every radiator we sell. Our all aluminum radiators are constructed using high quality components and hand made by seasoned TIG welding professionals and fabricators. 
 Looking for the Brushless version? Click Here! 
Details
Dual Spal High Performance Fans

Non Integrated Fan Shroud

Two Rows of 1" Tubes

Aluminum

16lb Billet Radiator Cap
 Ports: Our radiators come with either two ports or no ports. You can use a radiator with or without ports in any transmission. However, we recommend both radiators use a transmission cooling kit if they are being used in an automatic transmission. 
Transmission Cooling Kit: We recommend a transmission cooling kit with all radiators if they are being used in an automatic transmission. Transmission cooling kits help automatic transmissions stay cooler, and keep the transmission temperature the same as the radiator temperature. Add one to your radiator purchase on this page OR if you would like to know more about our T-cool kits, click here! 
High Performance vs Brushless Fans: High Performance fans are carbon brushed fans and are a great choice for your classic Ford Truck and have great technical performance. Our Brushless fans are more modern and efficient than their brushed counterparts, and tend to have longer lifespans. We offer both options so you can get exactly what you need for your builds.