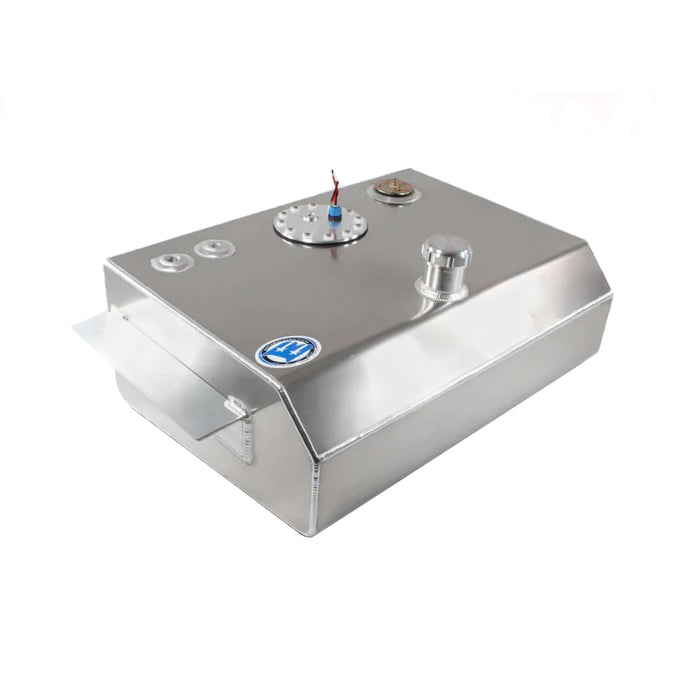 1965-72 Ford Truck EFI Fuel Tank and Fuel Pump
Original price
$763.00
-
Original price
$1,534.24
05/27/22 update: – All tanks are
built to order
and are currently running on a 4-6 week lead time.
1965-72 Ford F100 Fuel Tank with Stealth EFI 340 LPH Fuel Pump is perfect for your fuel injected motor requirements. Whether you transplanted a modern fuel injected engine, or added a Holley or FiTech EFI kit, we got you covered. Designed to fit the factory chassis. Requires you to move the front crossmember forward to fit.
Aeromotive 340 fuel pump and rollover safety valve are included. 
Description
Tank Dimensions: 26.5 x 19 x 10
Tank Material: .125 Aluminum
CNC Machined Non Vented / Threaded Cap. on center
1/2" NPT Vent
6 ORB Outlet
3/8" NPT Return
3 Baffles
Approx. 19 Gallons
Center Fill
This tank includes Boyd 41001 In-tank pump assembly with an Aeromotive Stealth 340 Pump installed.
Fuel Pump: This assembly includes the Stealth 340 pump for plenty of fuel pressure for your fuel injected projects. This is a great setup for Sniper, FiTech, and other fuel injection setups. Our in-tank Aeromotive 340 Stealth Fuel Pump supports up to 700 HP EFI – Forced Induction or 850 HP EFI – Naturally Aspirated. Click Here for Pump Specs.
Dual Phantom Aeromotive In-Tank Pump Upgrade: The Aeromotive 18309 Dual Phantom 340 LPH In-tank Pump Assembly is a great fit for your forced induction or naturally aspirated applications. This Dual Phantom pump Supports up to 1700 HP carbureted forced induction or 2000 HP carbureted, naturally aspirated. This black adonized top hat pump has superior flow throughout its wide pressure range and a perfect upgrade to your fuel tanks. For more information, click here. 

Fuel Level Sensor: We recommend one of three sending units to fit your needs; A 0-90 OHM fuel level sensor for aftermarket gauges, a 75-10 or 240-33 fuel level sensor if you are using stock gauges with our Coyote Swap tanks. 
Rollover Safety Vent: We also include the rollover safety vent, which is a simple ball check valve that allows air in and out of the tank as needed. In the event of a rollover, the ball will drop and block the vent port from leaking fuel. Additionally, it also has a small float inside that will help reduce the amount of liquid entering the vent hose from fuel slosh during normal everyday use.
SKU
FFG-F6572-EFITank-340