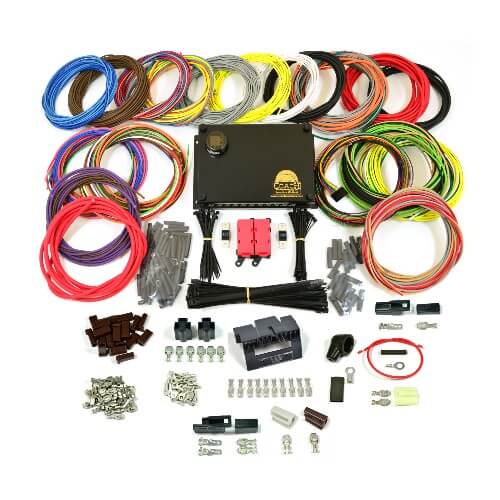 Coupe-23 Wiring Kit
Original price
$549.00
-
Original price
$599.00
The Coupe-23 kit is available in both a standard and long version, depending on where the Power Center is mounted. Under the dash is considered the standard location and for these applications the Standard Wire Length version should be long enough. The Long Wire Length version is recommended when the Power Center is to be mounted anywhere else in the car (under the front seat, in the trunk, etc). Longer wires may also be necessary when special routing is required for concealment (for example, through frame rails). Select the appropriate version for your application when placing your order.
Details
Modern, high quality, and efficient design raises the bar for after-market universal wiring systems.
23 fuse-protected circuits
18 fuses
Headlights can be operated as Daytime Running Lights or conventional switched headlights.
Use your own Ignition, Headlight, and Dimmer switches - a wide variety of switches can be used with this kit.
Pushbutton Start ready! No extra relays required, no complicated wiring necessary.
This kit supports 4 beam headlight systems (2 low beam elements (55W max), 4 high beam elements).
Car builders and designers!! - large heavy duty high-amperage Ignition, Headlight, and Dimmer switches are not required. Small, easy-to-mount switches can be used just as easily to control the Power Center's on-board relays for all high current circuits.
Dedicated 40 amp relay with thermostatic control input, compatible with all known electric radiator fans on the market, up to 30 amps continuous running current and 70 amps startup (inrush) current.
Alternator Exciter circuit, compatible with GM "SI" series alternators.
Power Feed and Loads are connected to the Power Center through heavy duty stud terminals for simple, bullet-proof connections.
Rated for 100 amps continuous total load, about twice what most street rods require.
Most cars will not require any additional relays.
Reverse battery protected.
Compact size: 7-3/4" x 5" x 2 1/2" (LxWxH) makes mounting easy.
Mounting base and cover are powder-coated satin black.