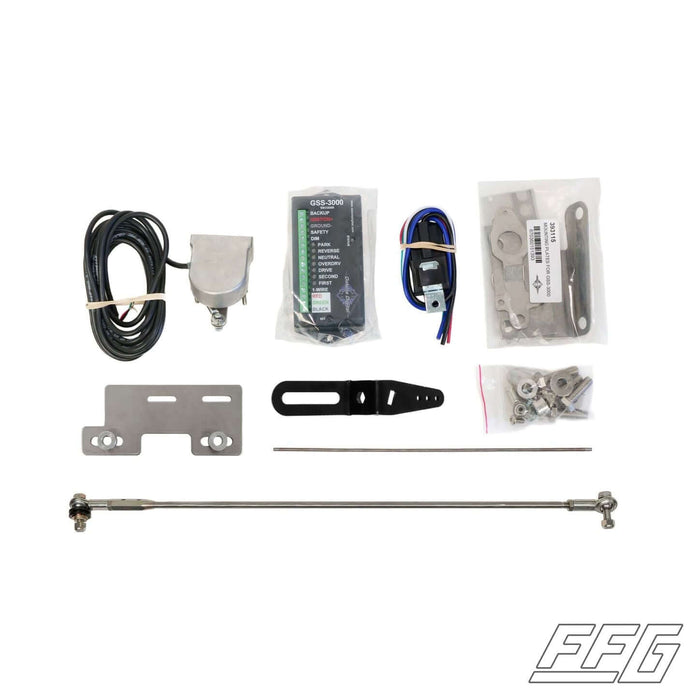 FFG Universal Gear Shift Sender Kit
Original price
$309.99
-
Original price
$309.99
Our new FFG GSS-3000 kit provides you with an easy bolt-on kit to add gear selection information, a neutral safety switch, and reverse light signal to your Coyote-swapped classic truck with a 6R80 or 10R80 transmission.*
*This kit includes the Adjustable Shift Linkage as well as the 6R80 OR 10R80 shift lever shown.
Fat Fender Garage is excited to provide you with an awesome new solution for your Coyote swapped trucks. This kit will provide you with the parts needed to install the Dakota Digital GSS-3000 on your 6R80/10R80 transmission. The GSS-3000 will provide the gear selection information to your Dakota Digital gauge cluster, and provides outputs for neutral safety switch, and a signal for your reverse lights. We include the FFG 6R80/10R80 Drive Stop bracket  along with the FFG 6R80/10R80 Shift Lever. Add our shift linkage kit to connect your steering column to the transmission and you have a complete solution for your steering column shifter installation.
You will receive the following:
Dakota Digital GSS-3000
FFG Drive Stop bracket [6r80 or 10r80]
FFG Shift Lever [6r80 or 10r80]
FFG Adjustable Column Shift Linkage
Hardware and install guide
More details:
The GSS-3000 is a new generation of gear-shift position system from Dakota Digital. We've minimized the decoder (the brain of the system), and the new, smaller size with inboard terminals allows for easier installation. Able to be used with a Dakota Digital instrument system or on its own, this versatile unit can relay transmission gear position to a VFD, VHX, HDX or RTX instrument system, as well as the DGS-series of standalone indicators.

Built-in outputs for reverse lights (up to 15 amps) and neutral safety switch (with supplied 30 amp relay).
Easy setup and calibration.
User-calibrated for 2-4 forward gears plus Park, Reverse and Neutral.
Stainless steel and aluminum mounting hardware included for a variety of transmissions.

Fat Fender Garage Drive Stop: we designed this bracket to block the shifter arm on your 6R80/10R80 automatic transmission from going past Drive. The 6R80/10R80 transmission has Park, Reverse, Neutral, Drive and Sport mode. If you go beyond sport mode, then the PCM goes into fail-safe mode. If you are using your original column shifter, it has the capability of going beyond Sport mode. This bracket mounts to the transmission pan, and will block your shifter arm from going past Drive and avoid going into fail-safe mode.
Coyote Swap Transmission Shift Lever – Fat Fender Garage has designed this shift lever to help you keep the column shifter in your classic truck. This shift lever will allow you to easily attach the column shifter rod or shift cable to your modern 6R80/10R80 transmission.