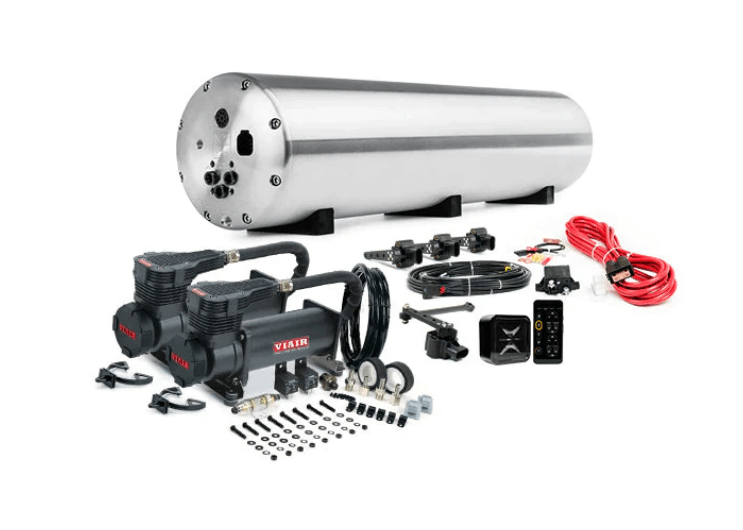 Premium Air Suspension Package
Original price
$2,999.99
-
Original price
$2,999.99
When it comes to getting everything you need to complete your air suspension system, sometimes getting everything you need in a comprehensive package is the best route to take. At AccuAir, we do the heavy lifting for you and offer everything you need to get started with your air ride system with this AccuAir Air Suspension Premium Package. Our Premium Package is going to include an ENDO-VT air tank, an e+ Connect which includes an ECU+, wireless switch box, an e-Level+ app, and height sensors. This is the perfect mid-level kit for anyone looking to get a high-quality air management system and programmable ride heights at an affordable price.

Premium Package includes:
e+ Connect: Bluetooth switchbox standalone or the base of e-Level+ when paired with e+ Height. Includes ECU+, Harnesses, Tank Pressure Sensor and Hardware

e+ Height (4-Corner): Upgrades e+ Connect to e-Level+ with addition of preset heights. Includes Height Sensors, Harnesses and Hardware

ENDO Valve-Tank - 4-Corner, 5-gal Bolted Alum Air Tank w/ Raw Finish

3/8" DOT/PTC Fitting Kit: (50 ft) 3/8" D.O.T. Nylon Airline; (1) FT-E-38TF14PM; (4) FT-E-38TF-38PM; (1) FT-S-38TF14PM; (1) LOC-565-6ml

Compressor Power Kit

VIAIR 485C Air Compressor (Dual Pack) - Stealth Black
ENDO-VT Valve Integrated Air Tank
Every good air suspension kit should have a high quality air tank to store the air produced by the air pumps. Most air tanks on the market are going to require you to run valves externally, meaning you will have more to deal with during install and more plumbing that will be visible. Our patented ENDO-VT valve integrated air tank provides a cleaner install by having the valves integrated into the air tank. This allows for quicker installs and an overall nicer presentation in your trunk, truck bed, or anywhere else you choose to mount your tank.

About ENDO Tanks
AccuAir's ENDO-Tank™ product line is the result of years of engineering accomplishments and represents the largest leap forward in air tank technology for 100 years. The system allows tanks to be built modularly with all precision machined aluminum components and with a bolted construction. As a result, these tanks are weld-free and leak-free. Ports are machined directly into the solid aluminum body and are flush with the outside of the tank. Modular construction allows the end-caps to be removed allowing for never before imagined feature combinations to go inside the tank.
E+ Connect
AccuAir's e+ Connect kit is going to allow you to have wireless control over your air suspension system through the e-level+ app. This kit will include the e+ Connect ECU+, wireless switch box, and the e-level+ app. The system is the standard for our Starter, Premium, and Ultimate Packages and is a great way for you to manage your air suspension system
Height Sensors
If you are wanting to get your vehicle to a certain height for parking, driving, or racing, you can use AccuAir's TruPosition Height Sensors. These sensors provide accurate leveling regardless of load. You can pre-program 3 heights for lowered, ride height, and raised. These sensors allow you to get straight to the height you prefer without having to pulse your valves for quick and easy adjustments.