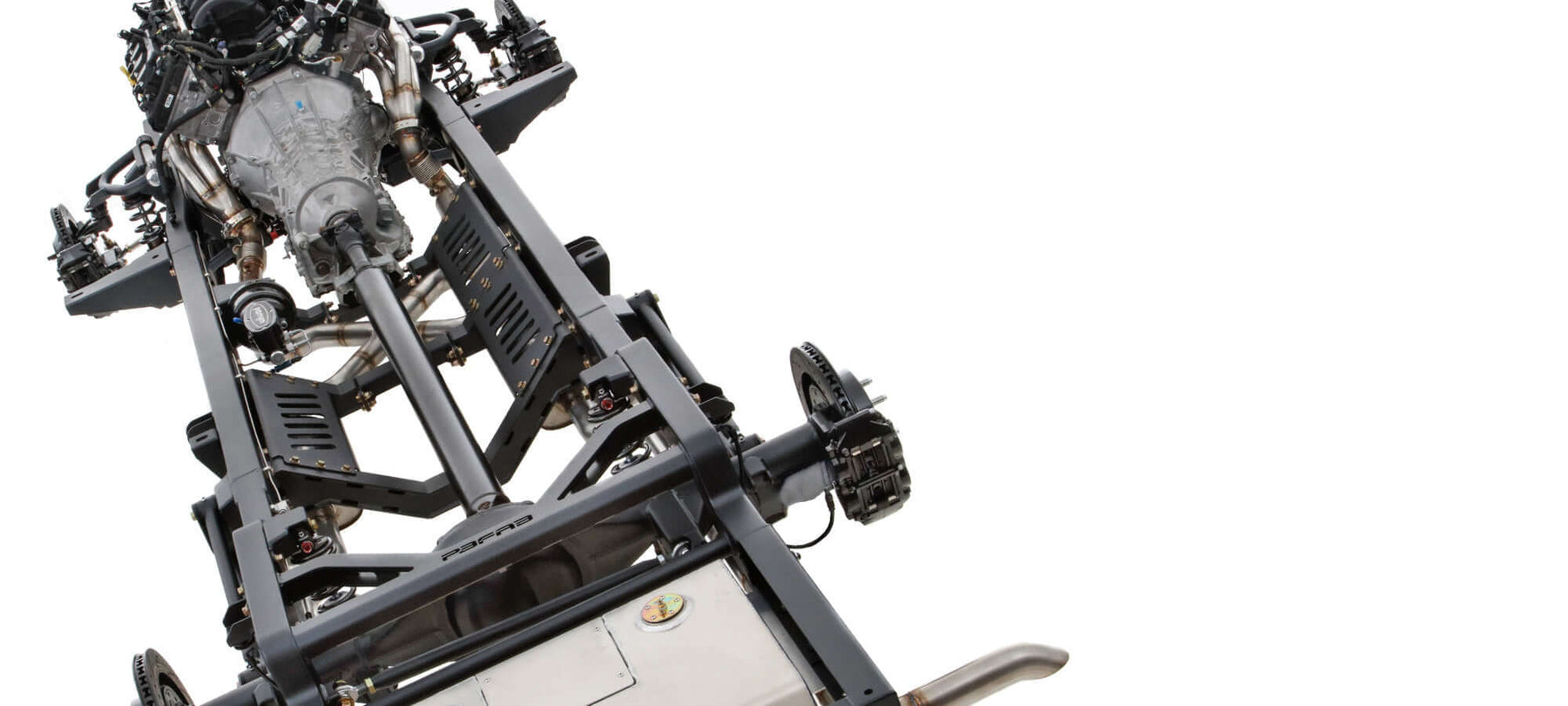 Simplifying Coyote Swaps: The Power of a Fully Loaded Chassis
Hey there, fellow truck enthusiasts! Today, I want to dive into the world of coyote swaps and shed light on why our fully custom and fully loaded chassis from Porterbuilt FAB can make your coyote swap project a breeze. So, buckle up and let's explore how our chassis simplifies the process, saves you time and money, and delivers outstanding results.
Picture this scenario: You purchase a chassis from another company, and it arrives in boxes along with various components. While it may seem exciting at first, the reality sets in when you realize the amount of work involved. From deciphering instructions to figuring out where each piece fits, the process can quickly become overwhelming, even for those with some mechanical experience. Many enthusiasts end up hiring a shop to complete the job, further adding to the expenses.
At Fat Fender Garage, we've made it our mission to simplify the coyote swap process and ensure your success. That's why we offer fully custom and fully loaded chassis that come pre-assembled and ready to go. We believe in delivering a complete package that includes brand-new parts meticulously selected to work flawlessly together.
The Benefits of a Fully Loaded Chassis:
Time-Saving: By choosing our chassis, you skip the tedious task of sourcing and ordering individual components. Our pre-assembled chassis arrives with everything you need, from brakes and springs to exhaust and fuel lines. It saves you countless hours of research, part hunting, and troubleshooting. 

Consistent Quality: We take pride in our attention to detail and consistent quality across all our chassis. We use trusted brands and suppliers, ensuring that every part meets our high standards. With Fat Fender Garage, you won't find "good," "better," or "best" options. We only offer the best, ensuring optimal performance and reliability for your truck.

Expert Guidance: Our experience in building trucks and performing coyote swaps enables us to guide you through the process effortlessly. Whether you have questions about wiring, exhaust routing, or other technical aspects, our knowledgeable team is just a phone call away. We're familiar with our products inside and out and can provide the guidance you need for a successful installation.

Customization Options: While our chassis come fully loaded, we understand the importance of personalization. You have the flexibility to add your personal touch, whether it's custom upholstery, bodywork, or paint. This way, you can create a truck that reflects your unique style and preferences. 
We understand that performance matters just as much as ease of installation. Rest assured, our fully loaded chassis deliver exceptional driving experiences. With options for air ride or coilovers, you can fine-tune your truck's suspension to suit your preferences. Our chassis handle exceptionally well, providing a smooth and controlled ride, whether you choose leaf springs or coilovers.
When it comes to coyote swaps, our fully custom and fully loaded chassis from Porterbuilt FAB are the game-changers you've been looking for. By opting for our pre-assembled chassis, you save time, eliminate stress, and ensure a successful build. With our consistent quality, expert guidance, and customization options, your dream truck is within reach. Join the Fat Fender Garage family and experience the thrill of a simplified coyote swap. Subscribe to our blog and follow us for more tips, information, and exciting projects.
So, are you ready to take the leap and make your coyote swap project a breeze? Get your free quote and take our chassis quiz at Fatfender.com/pages/ffgchassis, or click here and explore our range of fully custom and fully loaded chassis today!