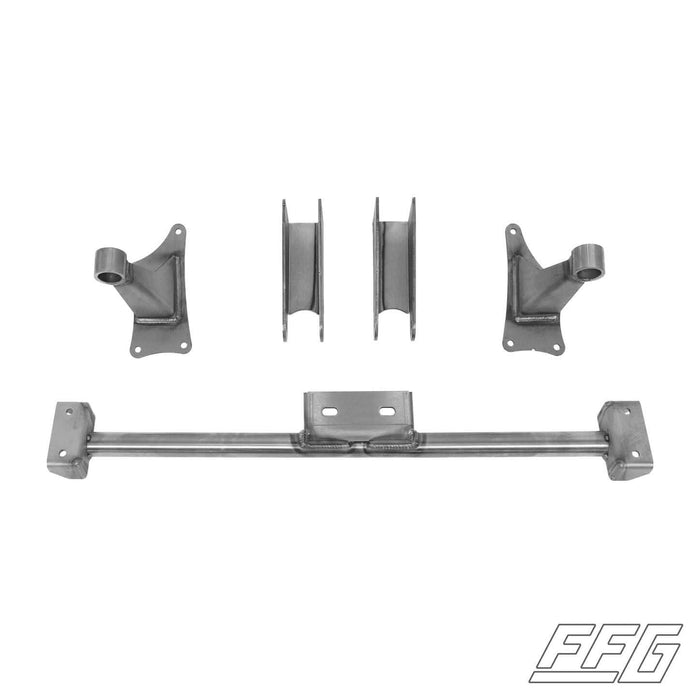 FFG Coyote Swap Motor Mount Kit | Universal
Original price
$675.00
-
Original price
$675.00
This kit is designed to fit the 2011-2021 Coyote motor and also includes the cross-member for the 6R80/10R80 automatic transmissions. The kit comes with all the hardware needed to install the motor and the transmission cross-member.
The frame perches will need to be trimmed and welded into your vehicle. We also recommend boxing your frame in for additional strength. The transmission cross member frame mounts are spot welded to allow for adjustment to fit your project and require finish welding.
Details
Designed to install a Coyote engine in your project
Requires cutting and welding to fit your project
All kits include mounting hardware and bushings
Shipped raw steel. Requires paint or powder coating

Weld-in motor mount frame perches are 7-1/4" from base to center of the bolt hole.

Shipped in raw steel and will require paint or powder coat before the final installation.
Update: New wider crossmember to fit newer models. The 80's & 90's truck have wider frames and this new crossmember has been extended to fit more vehicles. The transmission crossmember mounting holes are 35-3/4″ on center. You can trim the width to fit your project as needed.