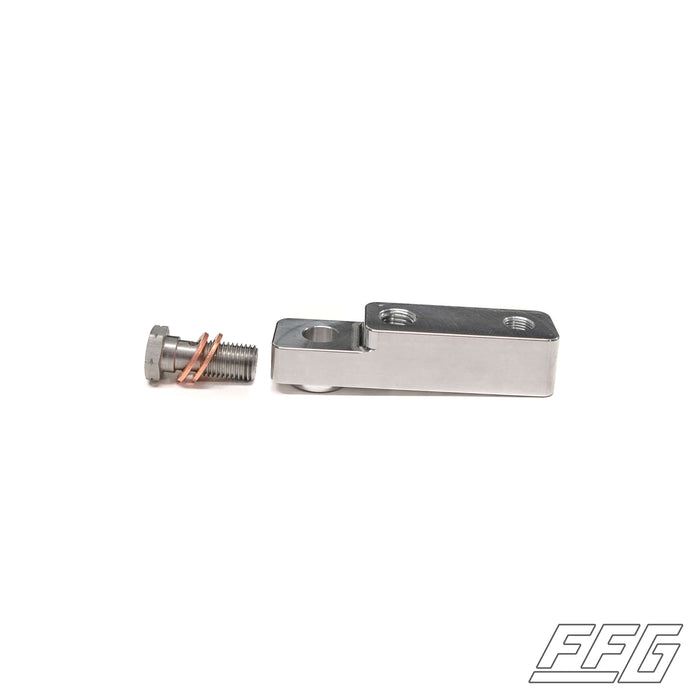 FFG Coyote and Godzilla Oil Pressure Sender Adapter
Original price
$69.99
-
Original price
$69.99
Fat Fender Garage exclusive! This high-quality oil pressure sensor adapter is CNC milled from a solid block of aluminum. Add this to your Coyote or Godzilla motor so you can run the OEM oil pressure sender for the Coyote and Godzilla ECU and add the sender for your gauges. Installs in minutes in the factory port location. 
Details
2 copper washers

2 extra ports that come with plugs installed. 

Fits 2018+ Gen 3 Mustang and F150 5.0 Coyote motors.
Fits 2020+ Godzilla motors.
The Gen 3 ECU requires the factory oil pressure sender signal or you will be limited to 3000 RPM's. But you also need to run the oil pressure sender that came with your new gauges. Some folks will  drill and tap another port in their block but that requires specialty tools that most of us don't have. Some people will purchase an oil filter adapter that provides the port, but space is very limited in our F100 engine bays, so this doesn't always work. We designed this adapter to allow you to run the factory sender and your after market gauge sender in the factory location. So no need to drill and tap a new port, and it doesn't take up valuable real estate in the engine bay. The only tools you will need are a couple wrenches and Teflon thread sealing tape for your aftermarket gauge sender.