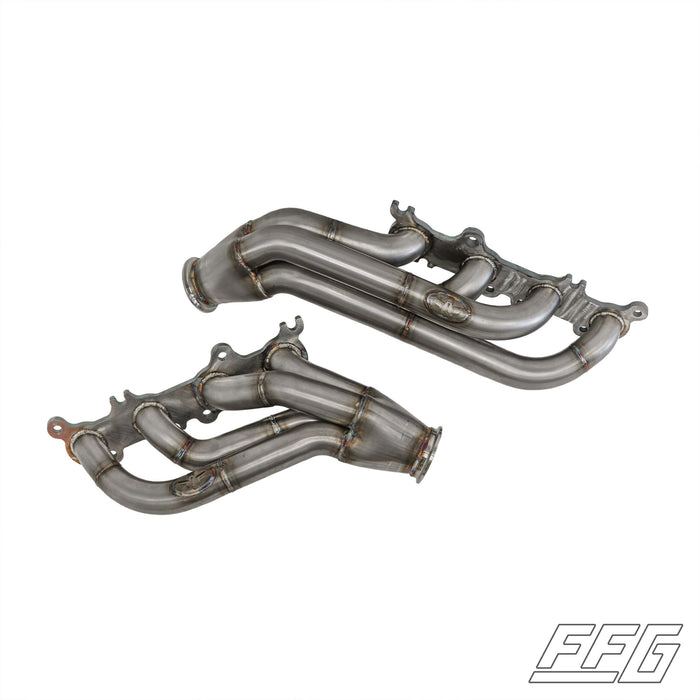 Coyote Swap Headers | 1965-1979 Ford Trucks
Original price
$1,999.99
-
Original price
$2,174.99
We've perfected our Coyote Swap Headers for 1965-79 Ford trucks on a stock frame here at FFG and we've finally brought them back into production for you to use on your own build at home.
Built to order and hand crafted right here in our shop; The FFG Chassis Headers are stainless steel and custom designed to install with the coyote engine precisely to ensure clearance for all components within and around the engine bay in your stock frame, leaving room for steering shafts, the front drive shaft, etc.
All FFG Headers 1 3/4" diameter primary tubes and meet at a 2.5" or 3.0" V-band collector. Fully TIG welded by hand and designed to work with the factory steering box. These headers are based on an installation into a stock chassis using an FFG Coyote Swap Kit.
All headers are supplied in raw finish. (We do not build custom-spec headers for off-site orders.)
NOTE: THESE ARE DESIGNED FOR STOCK FRAMES WITH A COYOTE ENGINE ONLY.
If you are installing these headers into a modified chassis or with a different engine mount kit, we cannot guarantee these will work.
For Coyote Headers made for FFG x PBFab frames Click here.
For Godzilla Headers made for FFG x PBFab Chassis' Click here.
For Godzilla Headers made for stock frames Click here.
SKU
FFG-F6579-HEADERS-2WD-2.5VB