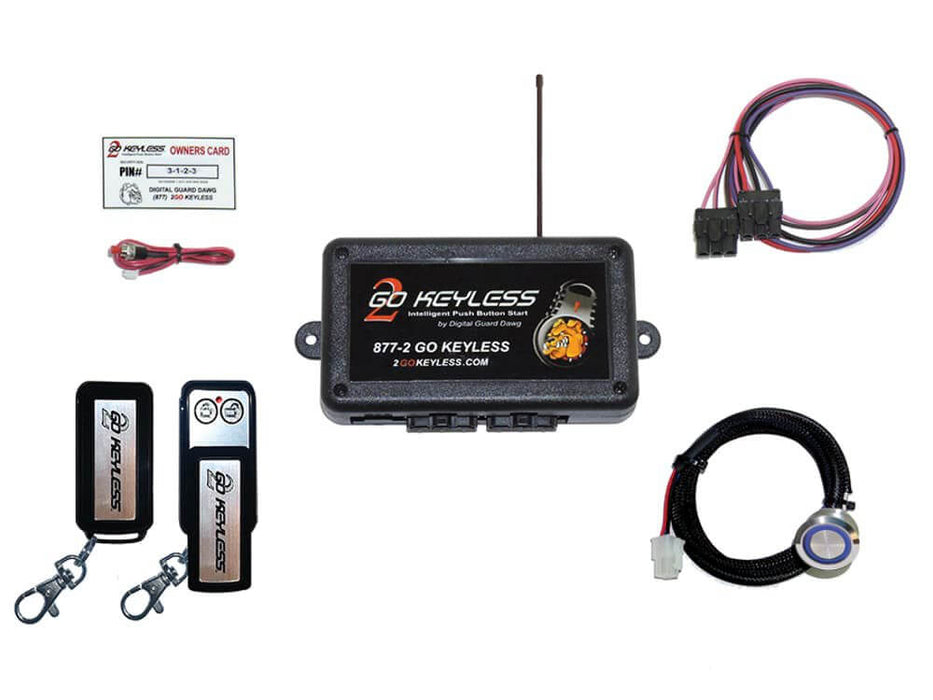 PBS-II Keyless Ignition Kit
Original price
$579.00
-
Original price
$579.00
The PBS-II Push Button Start system expands your possibilities with 5 programmable output channels to remotely control power locks, shaved doors, power windows and remote trunk release all from a single iTag transmitter.
 Using advanced RFID technology (Radio Frequency Identification) just like that found on the world's finest luxury vehicles, the PBS-II completely eliminates your vehicle's ignition key switch and provides proximity controlled automatic operation of your entire Ignition. Simply carry one of the system's digital RFID "iTags" with you. As you come into proximity of your vehicle, the PBS-II verifies your identity, authorizes your ignition and with just the "Push of a Button" your engine roars to life! When you arrive at your destination, another push turns your engine off and you just walk away. 5 remote operated output channels put complete control of all your power accessories right at your fingertips. If you're building something special and needing one unit that can do it all, the PBS-II is just what you're looking for!
Details
Onboard 60A relays eliminate unsightly and failure prone external relay wiring

Dual Mode RFID Transmitters provide both Manual & Automatic operation

Emergency Bypass Card assures starting even if you lose your RFID Transmitter.

Internal MSD filtering circuitry 

A single ITag can be programmed to operate an unlimited number of vehicles.

Proudly made in the USA
Five Independent Feature Control Channels: Four channels are user programmable (either Latched or Pulse) and can be used for virtually any option such as Remote Keyless Entry, Shaved Door "Pop" (single/dual), Remote Trunk release, Automatic Window Roll up, Lighting or Video activation, and a 5th "Proximity Channel" that activates automatically when you approach your vehicle, provides endless versatility to create customize operation of whatever you can dream up.
Start Button with LED Status Indicator: PBS Systems come standard with our 22mm Billet style Start Button, It is a top quality / heavy duty cycle switch with an attractive "soft brushed" finish. An Illuminated halo LED ring indicates system status. Switches are pre-wired to a 36″ plug in harness. Available in 3 LED colors; RED, BLUE or GREEN.
Advanced System Control Module: The system control module has 60A high current relays right on board, eliminating all unsightly and failure prone external relay wiring. Individually controlled circuits for Starter, Ignition and two separate Accessory circuits allow the system to be installed into any vehicle. One ACC circuit switches OFF during starter crank (to minimize current draw from components like A/C) and another that stays ON for components such as computers.
Programmable Starter Delay: For vehicles requiring time for fuel to pressurize on other systems to warm up before the engine cranks. The PBS II provides a programmable Start Delay circuit. It allows you to select a delay from the time you press the start button until your starter cranks up to 7 Seconds.
Built in MSD Filtering: Advanced filtering circuitry removes noise and electronic spikes associated with many high performance ignitions, saving money and time by eliminating the need to buy separate ignition filters.
Full Ignition Switch Functionality: Using brake pedal controlled switching the system fully emulates the functions of a traditional key switch. Want to operate accessories without starting your engine? Just use the Brake to select between different Ignition modes
Choice of Start Buttons: Customize your Ultimate Keyless installation even more with one of our optional Start Buttons choices. We start with the most beautiful OEM buttons available and individually modify them to work with our 2GO Keyless™ systems. It's the perfect finishing touch! 
Emergency Bypass: Should you ever lose or damaged your iTag™ the system includes a Emergency Backup PIN# Card that will allow you to start your vehicle in an emergency. A 2GO KEYLESS™ exclusive feature!