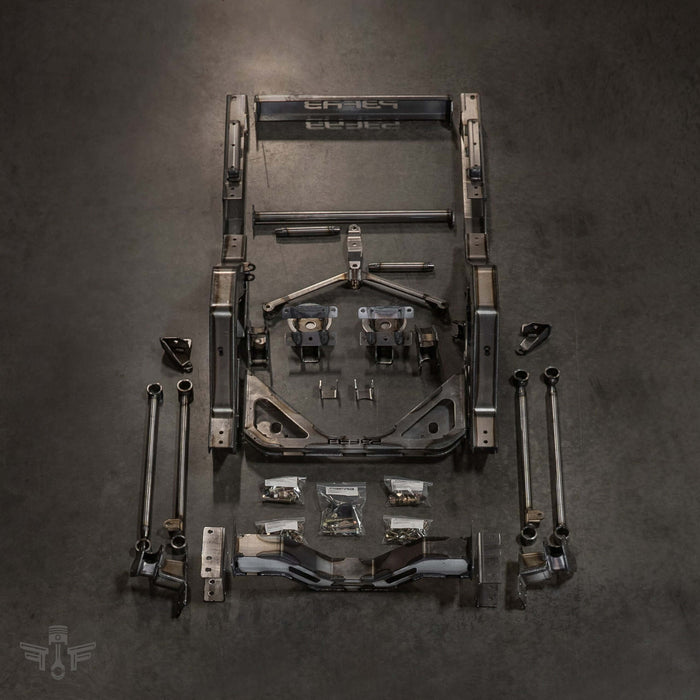 Rear Dropmember Kit | 1953-56 Ford F100
Original price
$5,698.51
-
Original price
$6,873.65
All kits are built-to-order, and have a standard 10-12 week lead time.
The Fat Fender Garage 53-56 Ford F100 front dropmember gives you all the quality you expect from a PorterBuilt chassis, in a budget friendly kit. We designed these kits for the home builder who appreciates the ease of a bolt-in kit, without sacrificing ride quality. This kit will take your truck to an entirely new level that allows you to autocross your truck, or ride slow 'n low on an adjustable airbag setup.
Great Starting Point: Our base price includes the dropmember, frame rails, crossmembers, 4-link control arms, bed mounts, suspension bridge, shock relocation brackets, watts link and hardware. 
Airbags or coilovers: The airbag suspension includes Firestone F900 + Shock kit, shocks and mounting hardware. This option will give you the ability to cruise at a safe & comfortable ride height when you are on the road. When it's time to pull into a car show or your local meet up, you can drop your truck on the running boards for that ultra low-low look.
The coilover suspension includes Falcon coilovers shocks w/coil springs, and all mounting hardware. 
Rear Axle: Rear differential housing Currie 9" Centurion Housing/Torino ends, notched style cover, 6-" standard width. Includes ford 9" third member with 31 spline axles, TureTrac, and 3.50 gears. All applicable brackets for your airbag setup, or coilover setup, will be welded to the housing for your convenience. 
Slow it down: Your brake options include 12-14″ rotors. The more horsepower you run, the bigger your brakes should be. If you are going to autocross your truck, then bigger is definitely better. The larger diameter rotor is better and dissipating the extreme heat experienced in racing. See the Wilwood Wheel Clearance Chart to confirm your wheel fitment.
12″ kit includes 12″ Wilwood rotors and Wilwood calipers (15" wheels or larger)
13″ kit includes 13"  Wilwood rotors and Wilwood calipers (17" wheels or larger)
14″ kit includes 14" Wilwood rotors and Wilwood calipers (18" wheels or larger)
Instructions included in package and on our website - Click here -