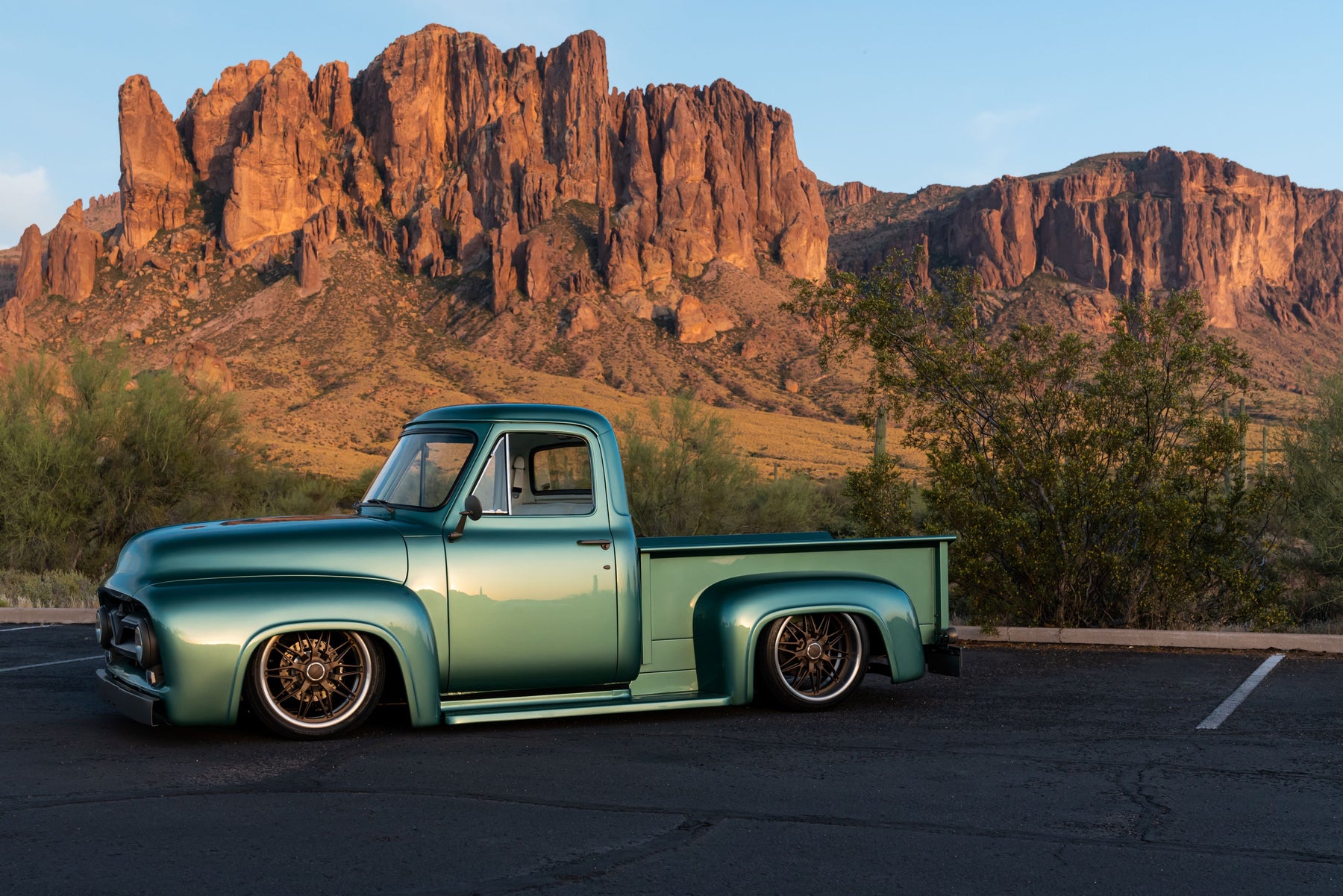 Unveiling a Custom Masterpiece: The 1955 Ford F-100 by Fat Fender Garage
Join us on an exciting journey as we delve into the transformation of a remarkable 1955 Ford F-100 by Fat Fender Garage. From its stunning green color to its meticulously crafted interior, this truck represents a unique take on the classic hot rod truck. With a lowered TCI chassis, custom finishes, and tasteful modifications, this build sets new standards in the world of automotive customization. Get ready to be captivated by the artistry and attention to detail that went into creating this extraordinary Ford F-100.
A Fresh Perspective:
Fat Fender Garage embraced the challenge of creating something different with the iconic Ford F-100. While these trucks have been popular among hot rod enthusiasts, the team sought to push the boundaries of design and craftsmanship. They opted for a custom mixed green paint, courtesy of BASF's Dymont product line, which provided a unique sheen and an exquisite finish. This choice of paint, coupled with the cerakoted accents, showcased their commitment to exceptional quality and attention to detail.
Custom Features and Finishes:
To enhance the truck's visual appeal, Fat Fender Garage incorporated several custom features and finishes. The bronze cerakote-finished wheels with brushed hoops add a touch of sophistication. The stock fenders were thoughtfully matched with a 10.5-inch wheel on the back, striking a perfect balance between style and integrity. Classic, vintage-inspired taillights and cerakoted hardware throughout the truck further exemplify the attention to detail and commitment to creating a visually cohesive masterpiece.
A Thoughtfully Designed Interior:
Step inside the Ford F-100, and you'll be greeted by a beautifully designed interior that blends comfort, style, and functionality. The bone-colored leather upholstery from Apex Leather, along with the square-weave carpet and leather-bound square-weave floor mats, exude elegance and luxury. Custom cerakoted Billet Specialties door handles add a unique touch, while the bench seat with bolstering and hand-stitched details ensures both comfort and aesthetics. Resto mod AC controls, Dakota digital gauges, and a Flaming River column complete the interior with a perfect blend of vintage charm and modern convenience.
Impressive Performance:
Underneath the hood lies a gen-3 Coyote motor, sourced from an F-150, equipped with Ford Racing's control pack for optimal performance. With a wizard radiator, cold air intake, and a carefully curated array of cerakoted parts, this truck not only looks remarkable but delivers an exhilarating driving experience. The stainless steel and black anodized hardware, along with the softening effect of cerakote, create a harmonious visual impact, reflecting the team's commitment to excellence.
A Family Heirloom:
The 1955 Ford F-100 build holds special significance for its owners, as it will become a cherished family heirloom. With attention to every detail, Fat Fender Garage crafted a truck that will be passed down through generations, showcasing their commitment to creating not just a vehicle, but a legacy. The big reveal captured in the video exemplifies the joy and excitement that this remarkable build brings to its owners and everyone involved.
Conclusion:
Fat Fender Garage's transformation of the 1955 Ford F-100 showcases their exceptional craftsmanship, innovative design choices, and unwavering commitment to creating automotive masterpieces. With their signature blend of artistry, attention to detail, and dedication to customer satisfaction, they have elevated the hot rod truck genre to new heights. The 1955 Ford F-100 stands as a testament to their expertise and passion, leaving an indelible mark on the world of automotive customization.