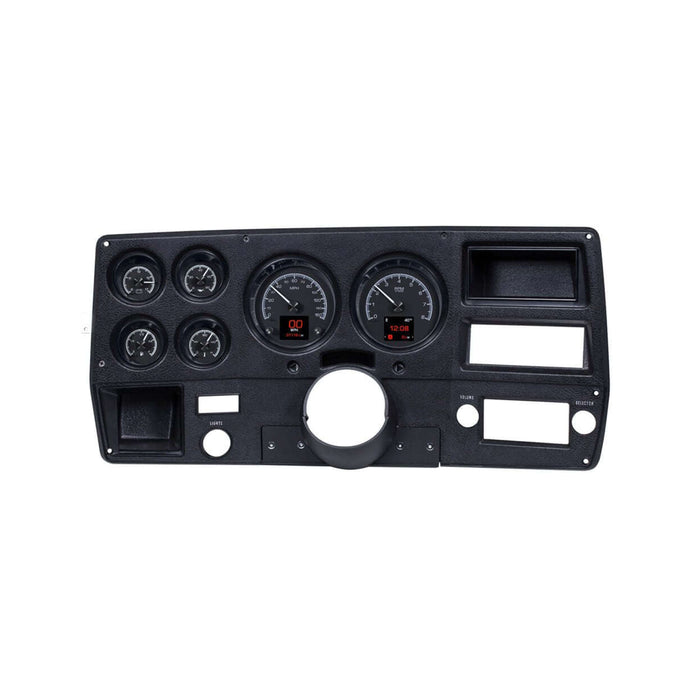 HDX Instrument Gauge System | Chevy Pickup (1973-87)
Original price
$1,499.99
-
Original price
$1,499.99
Still affordable and easy to find, 1973-87 Chevy and GMC pickups are gaining ground in the truck popularity contest. We love 'em for the stock cluster arrangement; a big speedo and tach front and center with the satellites to the side. We added a TFT-display in each large opening for the utmost in customization; view any parameters you like while the integrated buttons make calibration a cake-walk. Stick this in your 1973-91 Blazer, Suburban or heavy duty pickup too!
Available with your choice of black or silver alloy gauge-face styling, each HDX system allows the user to select independent illumination colors for the gauge readings and needles, as well as the message centers. Calibration and personal settings are manipulated with the built-in, capacitive-touch buttons, or the available Bluetooth app for Apple and Android devices. Each needle hub is black nickel plated spun-aluminum to match the buttons.
All HDX instrument systems feature dead-faced indicators (turn signals, high beam, check engine, cruise control, parking brake, plus two user-definable), and a red, settable warning light for each gauge. With our central control box, installation is greatly simplified with vehicle-harness sourced signals and supplied, solid state sending units connecting cleanly to their respective terminal.
Note: Bezel not included, shown for visual/presentation purposes.
System uses OEM or reproduction style bezel.